There's a guy named Michael Egnor who has a blog he calls "Egnorance."  I'm not making this up.  Anyway, he recently wrote a post directed at JT Eberhard asking a crapload of questions in the hopes that he'd be able to highlight how stupid he thinks the recent court decision on the Cranston High School prayer banner is.  Nevermind the guy isn't an expert on the Constitution and nevermind he's not a judge -- he just has a really strong opinion on how wrong the experts on the matter are.  Well, because I'm bored and because it irritates me that these types of challenges sometimes go unanswered I'll pick his post apart and address all of his questions to the best of my ability (JT already did).
I haven't weighed in on the Cranston prayer banner ordeal yet, but I'd like to take a moment to recognize this young lady as a true patriot and an American hero.  Jessica Ahlquist took a stand, not for her beliefs, but for the beliefs of every person in this country against an overwhelming tide of ignorance and hatred.  She saw a divisive, sectarian prayer hung in a public school and asked that it be removed so that students and educators of all faiths (or none) could feel equally represented and respected.  Jessica knew that this country was not founded on Christian principles but a desire to get away from an oppressive religious regime and allow everyone the freedom to choose what and how they'll worship.  Jessica knows this.  Christians do not.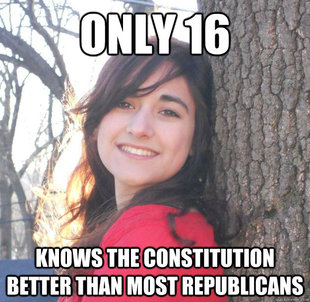 The Wayward Willis will be participating in the biggest online strike in history.  The SOPA & PIPA strike includes sites like Google, Wikipedia, Reddit, and many others.  We cannot let Congress take away our freedom of speech and our right to privacy!  Join The Wayward Willis and many other sites in an all-Internet blackout tomorrow, Jan. 18.
Rick Perry's "Strong" ad (you can click the link if you haven't seen it; I refuse to embed it into my blog) has been getting a lot of negative press lately.  I've been fuming about just how incredibly stupid the guy is for the last couple of days but haven't as yet done a whole lot of commentary on the thing.  I wanted to make a YouTube video in response but I didn't get around to it and it doesn't seem like it would be timely and relevant anymore.  Then again, it's such a timeless tragedy that people like Perry even have a voice in politics I may still make that video.  For now, I'll devote a few minutes to a blog post dedicated to all of the "duh" in this ad.  Luckily, it's so easy I won't even have to strain myself.